The Nottingham & Melton Railway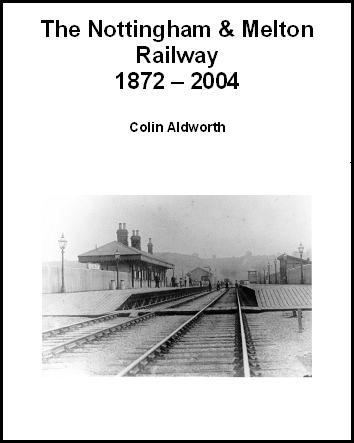 The web version of the book has been withdrawn for the time being, although I will publish important news on this page as it happens.
The book remains as popular as ever, and is available in an A4 Format, Laser printed & Thermal Bound with 290 A4 pages of text, tables & pictures.
The 18 Chapters include details of Edwalton, Plumtree, Stanton, Widmerpool, Upper Broughton, Nether Broughton, Old Dalby, Grimston, Saxelby, Asfordby, Holwell, the Test Track, and the Iron Ore Branches.
Price £24.99 plus postage & packing.
Available only from Melton Books, 5 Leicester St, Melton Mowbray, LE13 OPP, Tel: 01664 567769.
______________________________________________________________________________
CONTENTS
Chapter 1 Parliamentary Stage
Chapter 2 Construction 1873 to 1880
Chapter 3 History 1880 to 1959 including station closures & attempts to reopen
Chapter 4 History 1960 to 2004 including line closure & reopening as a Test Track, CEGB Crash, Asfordby Colliery & Pendolino
Chapter 5 Local Passenger Traffic - complete analysis of every timetable from 1879 to 1966
Chapter 6 Semi fast & Express Passenger Traffic - complete analysis of every timetable from 1879 to 1966
Chapter 7 Passenger Traffic onto the Midland & Great Northern to Bourne & beyond - complete analysis of every relevant timetable
Chapter 8 Freight Traffic - significant analysis of timetables from 1879 to 1966
Chapter 9 Mile by Mile from London Road Junction (Mile by Miles include photos of almost every significant point and comprehensive station fact-sheets including layouts, Stationmasters & excursions)
Chapter 10 Mile by Mile through Edwalton - includes Smart's Brickyard
Chapter 11 Mile by Mile through Plumtree - includes Stanton Tunnel
Chapter 12 Mile by Mile through Widmerpool
Chapter 13 Mile by Mile through Upper Broughton - includes Nether Broughton
Chapter 14 Mile by Mile through Old Dalby - includes REME Base & Wartnaby Mines
Chapter 15 Mile by Mile through Grimston & Saxelby
Chapter 16 Mile by Mile through Holwell Junction - includes Holwell Works, Welby Sidings, Asfordby Colliery
Chapter 17 The Iron Ore Branches to Waltham & Eaton - comprehensive detail
Chapter 18 Old Dalby Test Track & derivatives
______________________________________________________________________________
You can email me colin.aldworth@btconnect.com
2 Apr 2010